March 7, 2017 Lumpinee Championship + One Paranchai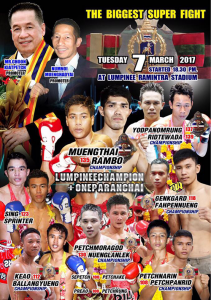 One of the most promising upcoming fights for 2017 is all set for 'Lumpinee Championship plus One Paranchai' show will take place on Tuesday the 7th March at Ramintra road, Lumpinee Boxing Stadium will showcase nine bouts including six title belts lineup. The show organized by Maj.Gen.Kasem Benjaniratisai, Mr. Choon Kiatpetch, Mr. Kode Paranchai and Mr. Numnoi Singpatong.
Muangthai from P.K.SenchaiMuaythaiGYM will face Rambo who currently train at Sitsongpeenong Gym will fight for Muay thai lightweight division '135lb lumpinee title belt'.
Petnarin from Por.Pekko is the current Ch7 stadium 108lb champion will fight against Petchphanlit Por.Lakboon for the vacant 108lb lumpinee title belt.
In Muay Thai flyweight division the rising star Keaw from Parunchai Gym will face Ballangyeung Por.Peenapad for the vacant 112lb  lumpinee title belt.
Muay Thai  Bantamweight division, Genkard from Por.Pekko will defend his 118 lumpinee title belt against  Fahpennueng  from Por.Lakboon
Petchmorakod from T-Ded99 Gym will defend his 130lb lumpinee title belt against  Nuenglanlek from Jitmuangnon Gym.
Yodpanomrung from Jitmuangnon Gym will defend his 140lb lumpinee title belt against another star of the 140lb division Rittewida Sor.Niphaphon.
and our junior fighter Sripetch Sitnumnoi will face Petcheak  from Singmanee Gym. 
Tagged: