MX MUAY XTREME MARCH 30, 2018
Singpatong fighters Gebril Chaibi and Davisson Jacauna joined the MX MUAY XTREME show at Thai TV Channel One31, Friday, 30th March 2018. A Brazilian fighter Davisson faced a Thai boxer Naruto Sathian in a super bout set at 62kg, but lose the fight.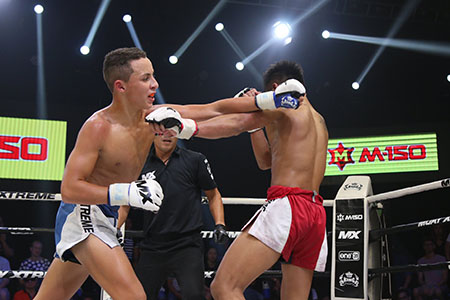 Our French fighter Gebril Chaibi squared off a Thai boxer Seksan Toonthong in the final match up champion tournament. As a result, the fight was draw and extend another round for the final decision. Gebril gave his full effort to win the round even both fighters are tired after giving their full effort in the three rounds. Gerbil's dominated the round, he threw clean punches and most of it landed to his opponent, but people are not satisfied about the final decision, they believed that blue corner got the final round. Gebril lose the fight but he won the heart of the crowd. You can watch the full fight video below.
Gebril Singpatong full fight video.

Davisson Singpatong full fight video.

Tagged: