MAY 12, 2017 SUK PETCH NUMNOI FIGHT LUMPINEE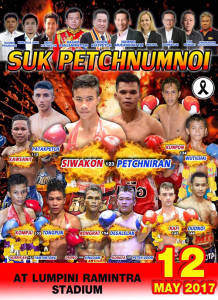 Here is the full lineup on SUK PETCH NUMNOI FIGHT  organized by Numnoi Singpatong in Lumpinee Stadium on Friday, 12th of May and the first three fights will broadcast live on Thai TV Channel NOW26.
French Nak Muay Rafi Bohic (140lbs WBC World Champion, 140lbs WMC World Champions) will face Uudnoi from Kaowkri Gym in the next fight.
Two superstar Thai boxers Siwakon Kiatcharunchai will fight Petchnirun Dabrunsarakham in the main event.
Tagged: