Lumpinee Champion Pentong Theolagym
Penthong Theolagym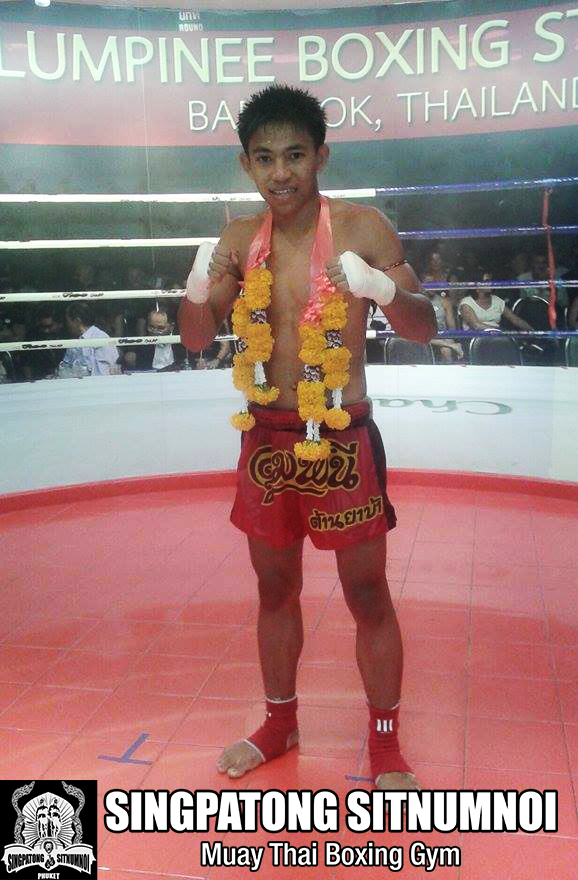 His Muay Thai Record
Total: 66
Wins: 46
Losses: 14
Draw: 1
Titles
2014: 106lbs Lumpinee Winner – 20th of September
2014: 109lbs Lumpinee Winner – 22nd of November
2014: 109lbs Lumpinee Winner – 27th of December
2015: 110lbs Lumpinee Winner – 31st of January
2015: 111lbs Lumpinee Winner – 14th of March
Meet our nak muay Pentong Theolagym. He is the new light flyweight champion in Lumpinee Stadium. Pentong won seven times in a row in Bangkok, Thailand. He is one of our young fighters and currently training at Singpatong Sitnumnoi Gym.
Last 14th of March 2015, Team Singpatong headed to Lumpinee Stadium, with our trainer Anan. Muangchai Tanaimichelle and Pentong Theolagym fought in Lumpinee while Samingnoi Sor Abdul fought the other day in Imperial Ladphrao Stadium was televised on Channel 9. Muangchai and Samingnoi did not make it, but they showed their strength in this fight. They give their full determination and skills to prove themselves.
31st of January; Pentong faced Kongkabin Sor.Jor.Laiprajin, 16 years of age, from Prachiburi, Central Thailand. In his career 50 fights, 40 wins and 10 losses. Pentong throwed solid punches with the combination of low and high kick in the first round. He throwed lots of knees in the clinch with a firm grip around the neck of Kongkabin.
Competing in Lumpinee Stadium is an excellent opportunity for every Muay Thai fighters. To be crowned as a winner in Lumpinee is priceless.
Check out the full fight of Pentong Theolagym below.
Tagged: