Where to Watch Muay Thai in Thailand
Muay Thai is Thailand's national combat sport, in fact, training camps promoting the sport is scattered all over Thailand. There are Muay Thai training camps in Bangkok, Phuket, Koh Samui and other places, it's actually typical to see countless training camps even in the not so urbanized areas because a lot of young Thais dreams of becoming great Muay Thai fighters, and their hope that the sport is their gateway to a better life, that is if they can fight in competitions.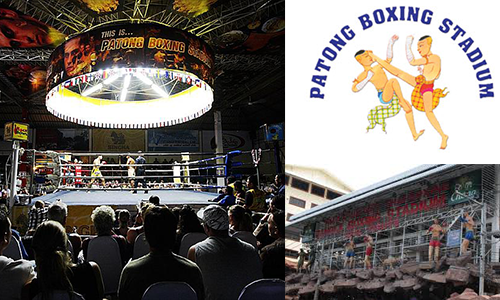 The popularity of Muay Thai is not confined to the Thai nationals alone. In fact, a genuine number of foreign nationals are currently residing in different parts of the country training and preparing for their Muay Thai fights. And such popularity has brought countless tourists to Thailand where a part of their holiday itinerary includes a visit to a Muay Thai training camp or watching a fight in one of the numerous Muay Thai stadiums in the country. 
Phuket and Koh Samui
Phuket and Koh Samui are two popular tourist destinations that offers the opportunity to watch a Muay Thai fight.  Patong Boxing Stadium has organized Muay Thai match every Monday and Thursday night, on the other hand, Bangla Boxing Stadium also in Patong, Phuket is another place where regular Muay Thai fights are also organized while, Chaweng's Stadium which is in the south of Chaweng Lake features Muay Thai fights on Tuesdays and Fridays. 
Bangkok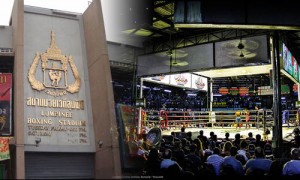 In Bangkok, there are two main stadiums thats also popular all over the world as the venue for some of the world's greatest Muay Thai competitive fights – Rajadamnern and Lumpini Stadiums. Rajadamnern organizes Muay Thai fights for women while Lumpini does not, there is also the Bangkok Boxing Stadium in Huaykwang which is the latest and most modern stadium in Bangkok that offers weekend Muay Thai fights which are sometimes broadcasted on Channel 11. 
Rangsit
Rangsit International Boxing Stadium in Rangsit, Thailand is another place where visitors can watch Muay Thai fights every Tuesday night.
For those who want to watch Muay Thai but have a weak heart in seeing the actual, sometimes bloody action, it is possible to watch some top Muay Thai fighters in action for free through the Channel 7 Stadium at Chatuchak Park which hosts a show that is also broadcasted on live TV every Sunday.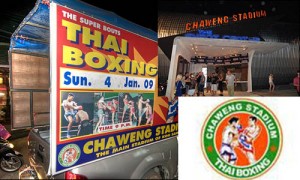 There's also the Queen's Cup held in August and the King's Cup held in December every year in Sanam Luang Park near Koh San Road in Bangkok. Information about the fight schedules is posted on the internet.
The importance of Muay Thai in tourism is not to be ignored as many visitors who visits Thailand are eager to witness a live Muay Thai fight, something that is almost, if not always, included in their itinerary and lists of things to see and do while spending their holiday in the country.
And while Bangkok has the biggest chunk of Muay Thai arenas, fortunately, visitors can also visit other less crowded areas in Thailand wherein they can surely spot a stadium or arena with scheduled and organized Muay Thai fights. But if you are looking for big fights with well-known fighters, Bangkok is the place to experience Muay Thai fight up close.