Super Muay Thai Tournament Workpoint TV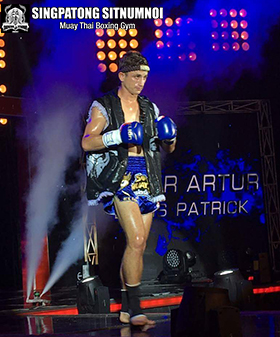 Arthur Meyer proved that he will be better 'Professional Muay Thai fighter' than before. After all the hard work and motivation in training at Singpatong, he came back as a strong fighter and determined to win. Arthur Meyer faced a Belgian boxer Adam Belge in the Super Muay Thai Tournament on Workpoint Tv last week 24th of January, 2016 in Bangkok.
In the first round, Arthur Meyer starts the fight by throwing brutal leg kicks, and heavy punches that make his opponent knockdown in the first round. The audiences were entertained by his performance that night. The fight was so intense because both fighters exchanged sharp punches and brutal leg kicks to each other. But in the final round, Arthur became more vigorous to beat his opponent. He won the fight by points against Adam Belge.
You can watch his full fight below, and start it at 16:18 mins.
Arthur Meyer won by points against Adam Belge
Tagged: