PETCH NUMNOI + STREET FIGHT NOVEMBER 30, 2018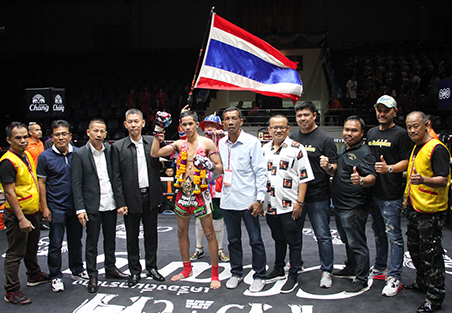 Congratulations to Singpatong Sitnumnoi fighter Samuantep P.Petsari Sitnumnoi the new Mini Flyweight Lumpinee Champion. In Suk Petch Numnoi, main event Samuantep faced a Thai fighter Ittipon from Singmawin Gym. Following Samuantep Muay Thai career from the beginning, determination and dedication lead to his success has finally paid off when he won one of the coveted belts in the Muay Thai career.
Here is the full fight result.
Fight

Name – Gym

VS

  Name – Gym

Weight

1

Petputawan Soonkeelatasal




Won KO in Round 3

VS

 

 Robert Nukbinalaiyon

119

2

Kongfa Tanaimicheal


Won on points

VS

   

Petnamchai T.Songkeatyim

100

3

Petsila Eakmuangnon


Won on points

VS

 

Lampet Singsamai

106

4

Jongdandam Sitnoomnai

VS

 

Diselnoi Keatchatnan


Won via KO in Round 2

127

5

Padsanlek Rachanon


Won on points

VS

  Mateas Sevenmuaythai (ITA)

140

6

Talatong S.Tanaporn


Won on points

VS

 

Kachaiba PhuketFightClub

154

7.




Main 

Event


Samuantep P.Petsari


Won on points

VS

 

Ittipon Singmawin

105
Tagged: