October 25, 2014 - BIG EVENT OF NIGHT Penake Sitnumnoi vs Mark Sarracino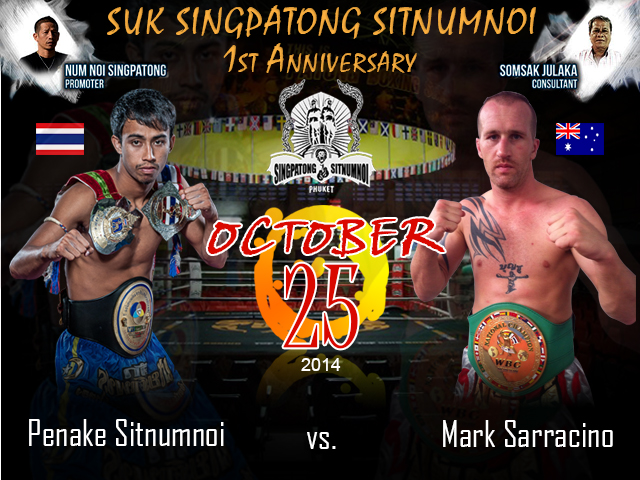 October 25, 2014 – 1st Anniversary of SUK SINGPATONG + SITNUMNOI on next Saturday. It will starts at 9:00pm onwards, at Patong Boxing Stadium. The main fight of the night, we proudly present our fighter from Singpatong Sitnumnoi Gym who will fight in this night. Penake Sitnumnoi vs. Mark Sarracino.
Penake Sitnumnoi awarded as "The best fighter of 2011 royal trophy from Thai Journalist Association, 3X Lumpinee Winner Titles, Channel 7 Stadium Champion, Channel 3 Omnio Stadium Champion and WPMF champion. He is one of Singpatong Sitnumnoi Training Camp's professional Muay Thai fighters. His professional career is managed by the head trainer Num Noi Singpatong and he belongs to Singpatong Club.
Mark Sarracino is a 4X Australian Champion; South Pacific Champion. He lived and trained in WMC Thai boxing camp.
Reserve your tickets at
http://www.muaythaifighttickets.com/tickets-category/suk-singpatong-sitnumnoi-october-25-2014/
or you can call us:
087-383-3364 (Day & Night) | 076-345-578 (Day)
or e-mail us :
singpatong@gmail.com
Tagged: