March 26, 2016 Final Tournament at Omnoi Stadium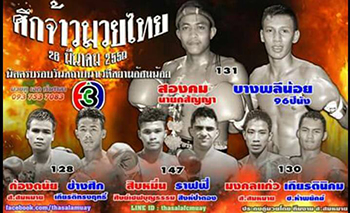 It's a bloody fight last Sunday at Omnoi Stadium. Rafhael Bohic Singpatong faced an experienced thai boxer Sibmean Sitchefboonthum in the final tournament for 147 lbs. weight division title belt.
Both fighters gave their best shot in this fight. During the bout, Rafi's right eye started to bleed in the second-round, but he did not mind it; instead he fought fiercely by throwing a sharp punched and brutal kicks to his opponent.
The bout was stopped in the fourth-round after the ringside doctor advised the referee, due to excessive bleeding in his right eye. Sibmean Sitchefboonthum defeated Rafi in the final tournament.
Tagged: