January 31, 2015 MUAY THAI FURY FOUR MAN TOURNAMENT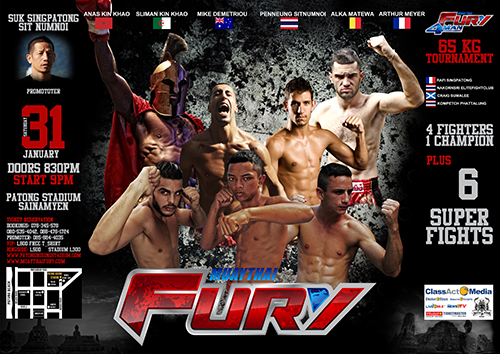 Numnoi Singpatong proudly present a new muay thai event every last Saturday of the month entitled Muay Thai Fury 4 man Tournament. The first event will be held this coming Saturday at Patong Boxing Stadium. It will start at nine o'clock in the evening till late. In this event four fighters will fight for one title. This will be a 65 kg Tournament and the fighters for this Four Man Tournament are Rafi Singpatong from France, Nakornsri Elite Fight Club from Thailand, Craig Sumalee from Scotland and Kompetch Phattalung from Thailand.
Muay Thai Fury 4 Man Tournament first teaser
Plus six super fights in this event. Figthers are Anes Kin Khao from Morocco, Sliman Kin Khao from Algeria, Mike 300 from Australia, Alka Matewa from Belgium, Arthur Meyer from France and Penneung Sitnumnoi from Thailand.
Tagged: