Arthur Meyer Impressive Knock Out Fight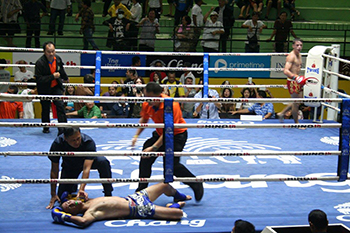 It's a great start of 2016 for Team Singpatong Sitnumnoi with an impressive knock-out fight. Saturday, January 1, Singpatong headed to Bangkok for another big fight. Our nak muay farang Arthur Meyer faced an experienced Thai boxer Inseenoy Keadbunmee in Lumpinee Boxing Stadium. This is Arthur's 2nd victory in Lumpinee, with 7th consecutive win including 4 knock-outs and a total of 32 wins in his professional boxing career.
During the fight, in the 1st and 2nd round, he carefully observes to see who is better technically. He said he was obviously over, and his opponent does more clinching in the 3rd round. In the 4th and 5th round, Arthur accelerates and performed well, he finished the fight with a high kick, spinning back elbow with a strong knock-out punch. They award him worth 20,000 baht special prize for an amazing and impressive fight during the night. It's a good start to his Muay Thai career.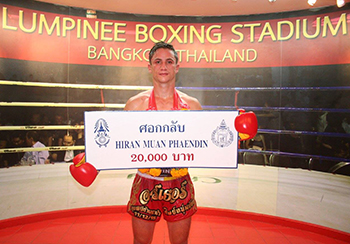 Arthur Meyer received a special award worth 20,000 baht for superb performance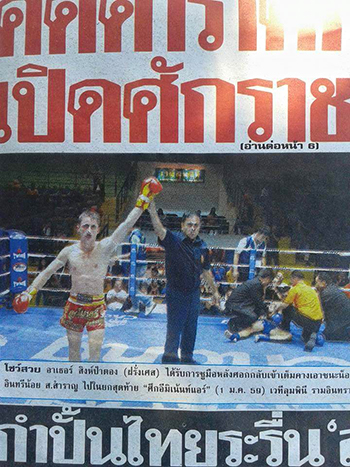 His fight also featured in thai newspaper.
Watch Arthur's recap fight in Lumpinee Stadium.
Tagged: